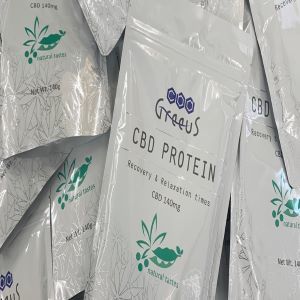 CBD protein powder
Product Description
Japan's first CBD all plant-based protein.
It's designed to kill three birds with one stone, with nutritional balance, relaxation, and anti-aging benefits!
"CBD protein.
Content: 140g
CBD content: 140mg
Raw materials
Hemp Seed Powder (manufactured in Canada)
Soybean protein
Pea Protein
Soluble dietary fiber (inulin)
End of Plantago Obata
Mixed Herbal Extracts
Cannabidiol (derived from mature hemp stalks)
Nutrition Facts / Per serving (20g)
Energy / 77 kcal
Protein / 10.3g
Fat / 1.2g
Carbohydrates / 6.1g
Salt equivalent / 0.4g
CBD / 20mg
Storage method
Store in a cool, dark place away from direct sunlight, high temperature and high humidity.
How to eat
Dissolve in 150 to 200 mL of water or your favorite beverage for one meal (20 g).
Notes.
Discontinue use if not suitable for your constitution or physical condition.
Please check the ingredients and do not use if you have any food allergies.
The product contains milk, eggs, wheat, buckwheat, peanuts, crab, shrimp and soybeans.
People who are pregnant, nursing, or taking medication should not consume this product.
Please do not use this product while driving.
Please keep out of reach of children.
Once opened, please consume as soon as possible, regardless of the expiration date.
The diet should be based on a balanced diet of staple foods, main dishes and side dishes.
Contact Us
2-12-5, Taihei, Sumida-Ku, Tokyo, Tokyo, 1300012, Japan
Phone :81-80-34874632