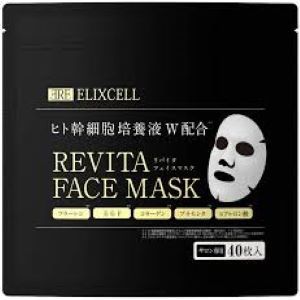 Human Stem Cell Culture Facial Mask
Product Description
Human Stem Cell Culture Facial Mask
Human Stem Cell Culture Extracts Contained.
Contains Five Anti-aging Care* Ingredients in Addition to Human Stem Cells (Egf (Human Oligopeptide), Fullerene, Collagen, and Hyaluronic Acid).
(Egf (Human Oligopeptide), Fullerene, Collagen, and Hyaluronic Acid)
Moisturizes Aging Skin and Supports Beauty and Health.
Care According to Age.
Remove the Mask From the Bag and Spread It Out and Apply It to the Center Line of the Face.
Leave on for Approximately 10 to 15 Minutes Before Removing the Mask.
Gently Blend Any Remaining Serum Into Your Skin With Your Hands.
Ingredients
: Water, Glycerin, Dpg, Ethanol, Human Adipocyte Acclimation Culture Medium Extract, Fullerene, Succinoyl Atelocollagen, Sodium Hyaluronate, Papain, Bromelain, Mannitol, Arbutin, Hydrolyzed Hyaluronic Acid, Hydrolyzed Elastin, Water-soluble Collagen, Poly -sodium Gamma-glutamate, Soybean Seed Extract, Kudzu Root Extract, Aloe Vera Leaf Extract, Chlorella Extract, Bg, Pvr, 1,2-hexanediol, 2na Phosphate, K Phosphate, Na Alginate, Polysorbate 8. 0, Citric Acid, Sodium Citrate, Phenoxyethanol, Methylparaben
Precautions for Use.
Do Not Use if You Have Scars or Rashes.
Do Not Use on Skin With Abnormalities Such as Wounds, Swelling, or Rash.
Discontinue Use if Product Does Not Agree With Your Skin.
If You Continue to Use the Product, Consult a Dermatologist as Continued Use May Worsen Symptoms.
If You Notice Any Abnormalities Such as Redness, Swelling, Itching, Irritation, Loss of Color (White Spots Etc.) or Dark Spots Etc. During or After Use.
If Your Skin is Exposed to Direct Sunlight as Described Above
Be Careful Not to Get Into Eyes. If Product Gets Into Eyes, Rinse Immediately.
Do Not Use for Long Periods of Time and Do Not Sleep With Mask on.
Do Not Sleep With Your Mask on for Extended Periods of Time or While Wearing It. Z for Hygiene Reasons, Do Not Reuse the Mask Once It Has Been Used.
Z Keep Out of Reach of Children.
Do Not Store in High or Low Temperature, High or Low Humidity, or Direct Sunlight.
Tightly Zip Up the Mask After Use to Prevent It From Drying Out.
Contact Us
2-12-5, Taihei, Sumida-Ku, Tokyo, Tokyo, 1300012, Japan
Phone :81-80-34874632