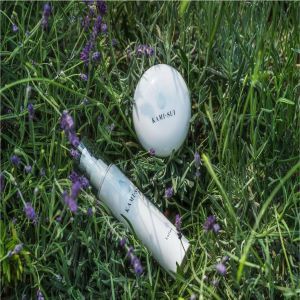 Japanese spring water & distilled rose water skin care
Product Description
The main ingredient is hot spring water from the Hirayama hot spring, also known as a natural serum.
KAMI-SUI is made up of highly safe ingredients: organic roses and herbs.
The first two products are a lotion and a body cream.
Both products contain rose distilled water, which is excellent in anti-aging for the skin, and
It contains mugwort extract, hyaluronic acid, collagen and ceramides that are known to improve rough and dry skin.
In addition to rosemary extract, which is attracting attention for its ability to draw out the power to generate
Contains highly moisturizing sodium hyaluronate as an active ingredient. It leads to moisturized skin.
The small hot spring village of Hirayama Onsen, known as the inner sanctum of Yamaga City, has a long history, with its origins dating back 1,300 years. The origin of this hot spring is as old as 1300 years ago.
Legend has it that the hot water cured the villagers' skin diseases quickly.
Nowadays, there are about 20 modern hot spring inns and hot spring facilities scattered around the area where you can enjoy the hot water of the source.
Combined with the healing effect on the skin, it has become a popular destination for women's and mother-daughter trips.
The alkaline simple sulfur spring is said to remove dead skin cells and improve skin metabolism.
The thick, serum-like water clings to the skin and is reputed to provide a blissful experience.
KAMI-SUI uses hot spring water collected from a source with a particularly high pH (pH value) in the Hirayama hot spring.
The pH value of the water is 9.9 when it is pumped out, and it maintains a high pH value of 9.6 even after it is purified for use as a facial toner. Because it contains rich minerals and other hot spring ingredients, the water is rich in
Consistent use of KAMI SUI helps to make your skin moisturized and clear.
The roses that form the main ingredient of KAMI-SUI are harvested at the Aso Roseberry Garden.
It is said to be difficult to grow roses without pesticides, and it is very rare to find a rose garden that actually grows roses without pesticides, but the Aso Roseberry Conservatory is one of the best places to grow roses.
At Aso Roseberry Orchard, the roses are carefully grown without pesticides, starting with the cultivation of the soil.
I have grown nearly 30 varieties of roses on an experimental basis, but
I finally found six or seven varieties of roses that can be grown without agricultural chemicals, even in the unique climate of the Aso Highlands," says the garden's director, Tetsuro Ogasawara.
The reason for his pesticide-free policy is that he started a rose garden to grow edible roses, hoping to "make juice and jam with roses and deliver them to customers.
Only organic fertilizers such as bone meal, soybeans and oil cake are used at a minimum, and for greater safety and security, the roses are grown using organic JAS-certified cultivation methods.
The rose cultivated in this way has a very rich fragrance. The scent of roses is believed to balance female hormones and
KAMI-SUI" can be expected to take care of not only your skin but also your body and mind.
Minami Aso Organic" cultivates herbs without relying on any pesticides or chemical fertilizers.
At the large farm, there are a wide variety of herbs from familiar ones such as rosemary and lavender to
More than 50 kinds of herbs are grown here every year, including medicinal plants such as mulberry wormwood.
The farm is located in a slightly open area in the mountains with plenty of sunshine, and there is also a spring and a water supply on the premises.
There are two water sources, including a stream with subterranean water from Mount Aso, making it the perfect place to grow herbs.
The herbs are made into herb tea and skin care items at the workshop of Minami Aso Organic and are loved by many repeat customers.
KAMI-SUI is also manufactured by Minami Aso Organic. We have been using our own herbs in our lotion and other products.
KAMI-SUI, the crystallization of high-level materials, is our most confident product.
"This product is a must-have for mature women who want to choose truly great products for their beautiful skin 10 to 20 years from now," she says.
Ms. Masako Komatsumaru, representative of the company. The natural scent of roses and herbs brings joy to the brain and soothes the heart.
Please spend a rich skin care time at KAMI SUI.
Contact Us
2-12-5, Taihei, Sumida-Ku, Tokyo, Tokyo, 1300012, Japan
Phone :+818034874632